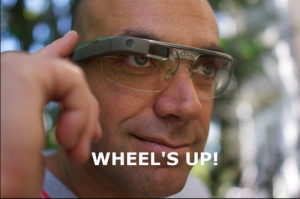 You have the words ninja, guru or sometimes expert in your name or description. Unless you're actually a ninja or guru. Then rock on.
Calling yourself a world traveler, adventurer or something comparable. Tone it down. A lot.
You feel compelled to tell us all you're on a plane. Use of phrases like "Wheels up/down…"
You're wearing Google Glasses in your profile picture, and looking quite serious.
You use TrueTwit verification. You're not worth the trouble, trust me. Unfollow.
You auto direct message me a pitch when I follow you. Slow down tiger. How about interacting with me first?
You auto direct message me when I follow you a long list of other places to follow you. Come now. You're not that interesting.
You auto direct message me a question on Twitter when I follow you, but you didn't follow back, so you can't get the reply.
To simplify, you auto direct message me on follow.