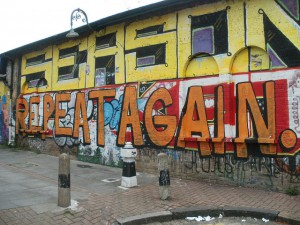 The web is constantly getting noisier. Twitter, too. No matter how great your content it's unlikely you'll stand out and get noticed if you don't repeat yourself. It's also doubtful that you'll get much social media driven traffic to your blog unless you repost promotional tweets. But there's repeating, and there's repeating. There's a subtle art to reposting on social media.
I follow a lot of people on Twitter – nearly 12,000, but most of the tweets I'm reading are from fewer than 150 people on a couple of lists that I manage carefully. I remove people when I don't think I'm getting much value from their posts. I add people when we have a stimulating conversation and I'd like to enjoy more of their brains.
I noticed a promo for a blog post that I thought seemed very familiar. The wording in the tweet was unusual, and i caught myself noticing again. I put a clip of the text in search and saw that nearly the exact same tweet promoting a blog post had been posted every day so far back I couldn't scroll that far.
That was too much.
If this user had been one of 12,000 I wouldn't have noticed. Because he's one of a small group that I monitor closely, I did notice. At best he'll be bumped from these lists. Maybe I'll unfollow.
Maybe I'm not his target. Maybe this strategy is working for him. But maybe he's overdoing it and annoying people who might otherwise care.